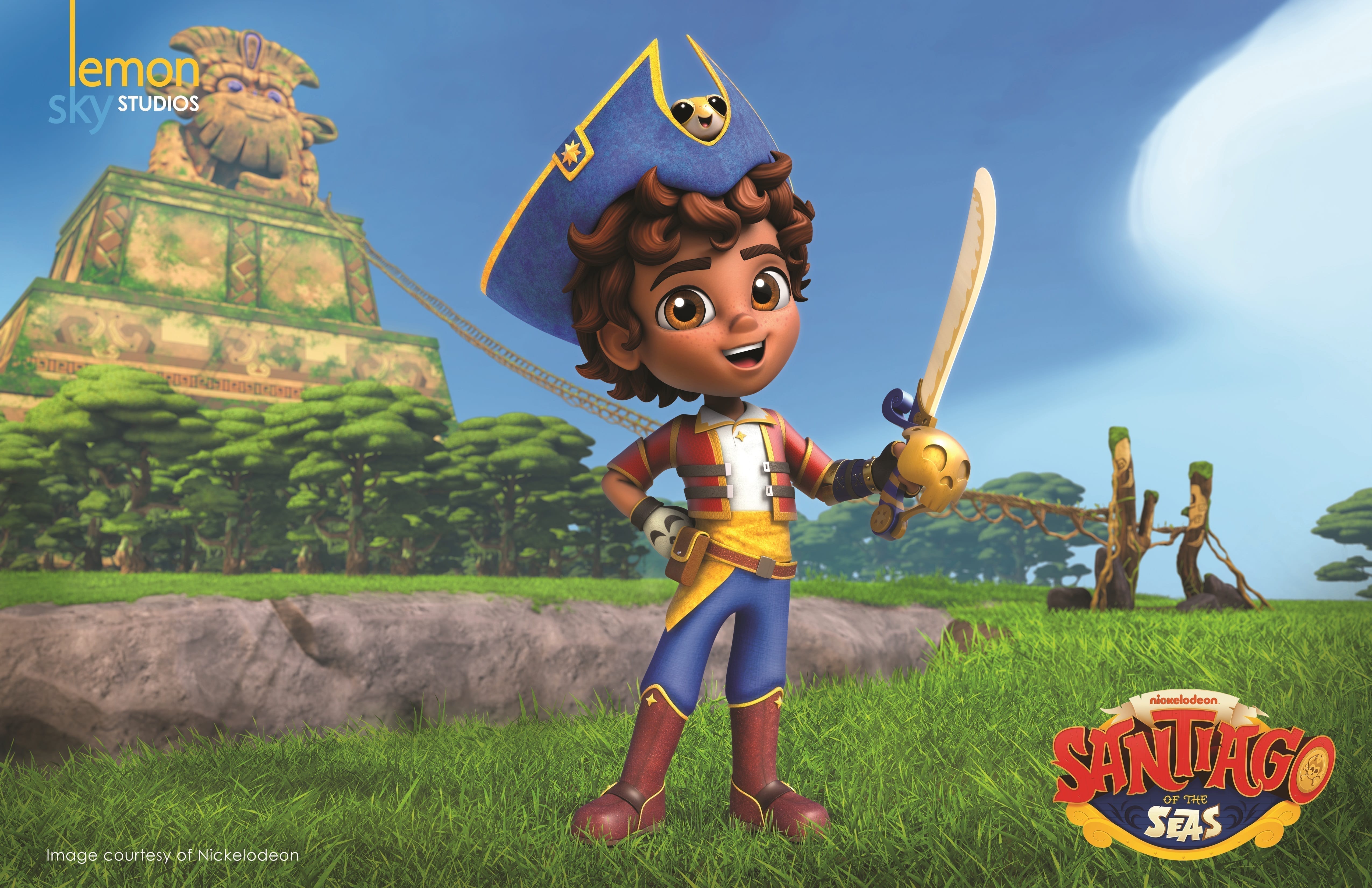 Say Ahoy to Nickelodeon's Santiago of the Seas!
---
November 5, 2020
One of our biggest animation projects to date, Santiago of the Seas has made it's long awaited debut on Nickelodeon!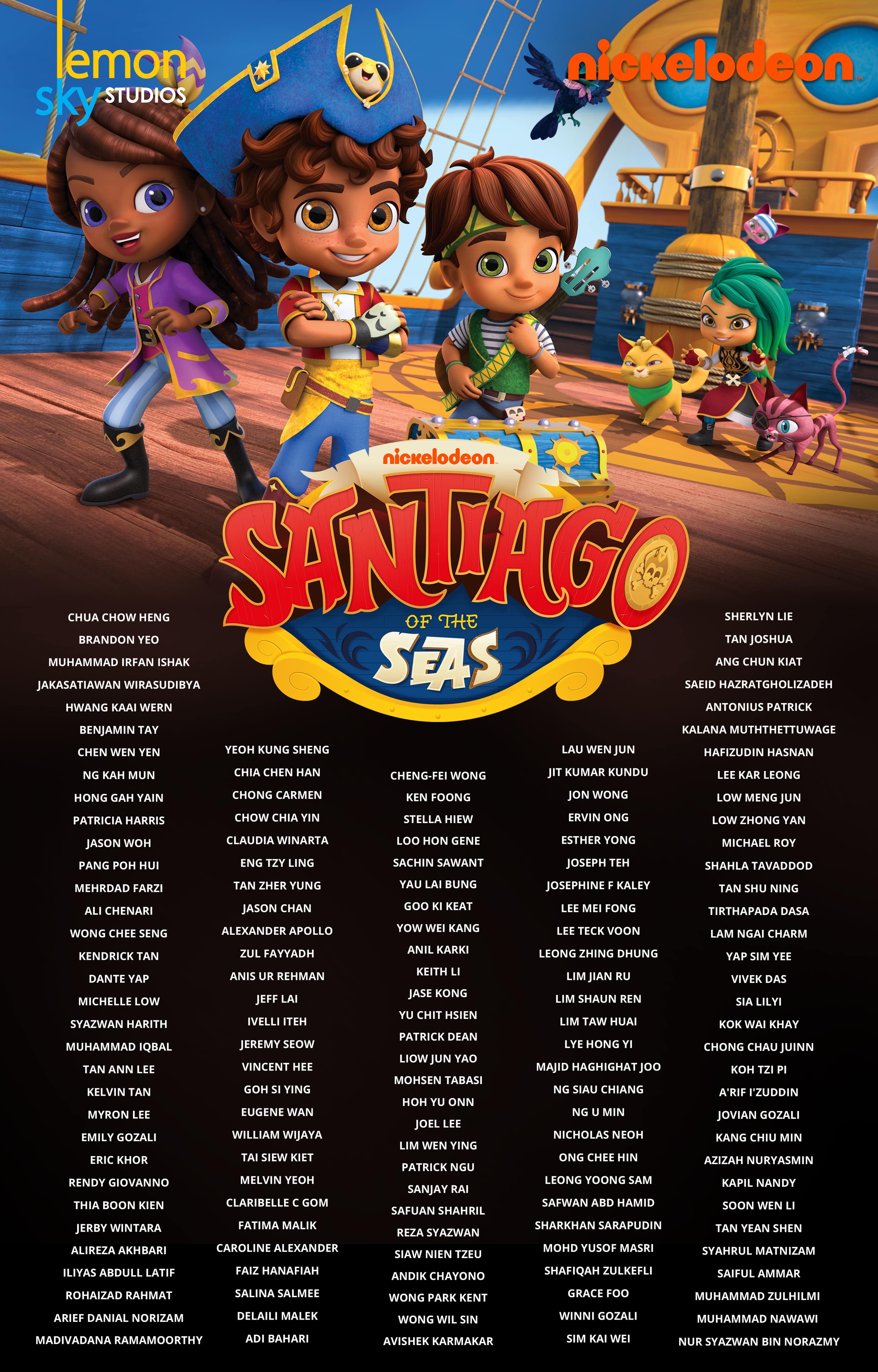 This project was on a bigger scale than any of our previous work with Nickelodeon, as it was the first time for us to be involved in almost the entire production process for a Nickelodeon animated series. For Santiago of the Seas, Lemon Sky Studios handled 3D asset creation, animation, visual effects, lighting & compositing!
Aside from the scale of the project, Santiago of the Seas was a special milestone for us in many other ways. While we previously worked with Nickelodeon on numerous tests and parts of the Middle School Moguls series, it was quite a big moment when Nickelodeon informed us that they would be giving us the opportunity to handle the production of a brand new animated series. Thanks to our previous efforts, the executives trusted that the project was in good hands with us, and thankfully we were able to prove them right!
This series also marks the first time that a full Nickelodeon animated series has been produced by a studio in Southeast Asia. We're proud to show the world that this region does indeed have a special brand of talent, and we hope that we can continue to help our region gain a reputation in Hollywood and the long-form animation industry, which will hopefully lead to more exciting projects from other Southeast Asia based studios in the future!
"Thank you to everyone in the Lemon Sky family. It has been a DREAM collaboration and I feel incredibly fortunate to work with your incredibly talented and kind team. Here's to many more pirate adventures aboard El Bravo in the near future!! ❤ "– Niki Lopez – Nickelodeon. Director / Creator   
 "I wanted to truly thank you and everyone at Lemon Sky.  The show is amazing, and everyone from your studio deserves a huge round of applause for creating such wonderful content.  Your artwork is inspiring.  We're all looking forward to a new season and excited to keep the adventure going!" –  Ian Murray  – Nickelodeon, Line Producer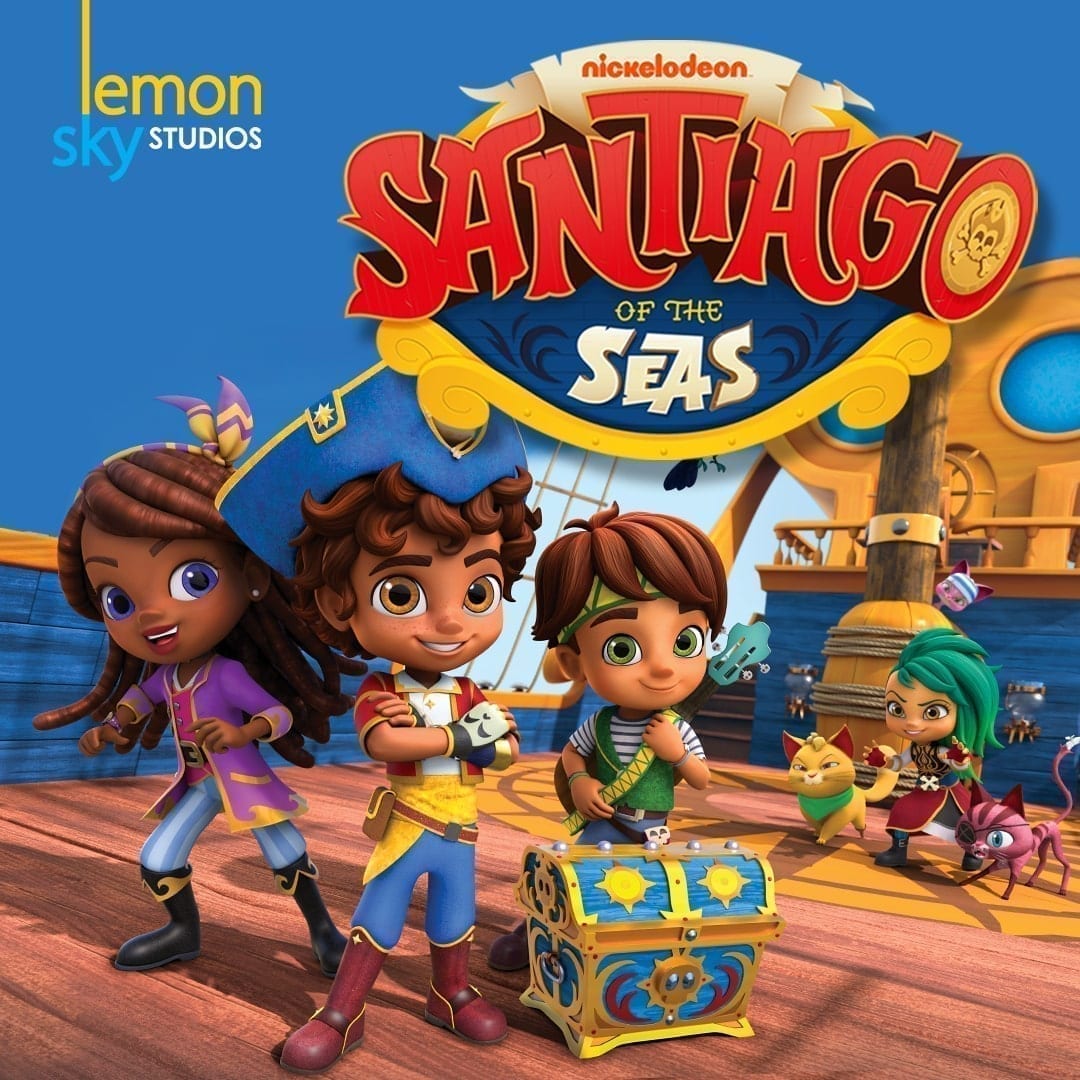 On the technical side, one of the challenging aspects of the production was the actual setting of Santiago of the Seas. That is, The Sea itself! Water is almost a living entity on it's own with the way it constantly moves and interacts with whatever is moving through it, and as one might imagine, animating the water effects for each episode of a series proved to be quite the technical challenge for our team.
To overcome this challenge, we came up with technical solutions to re-use some of the effects wherever possible. We created a huge library of FX elements that could be re-used often, saving us a lot of time. Thanks to the time and resources we saved using this method, we were then able to work on more complex and higher quality FX for the climatic moments of the show.
"Thank you all so much for the amazing work and an even more impressive show that was able to premiere today on the Nickelodeon channel. Know all of the Santiago crew at Nick was so happy to share this great show, finally, after 3 years of production, and they all celebrated today the groundbreaking animation, comp and FX work that your team produced. This was truly a major achievement for both of our studios. And even more amazing was how much of this project was finished in the houses of your artists during quarantine!! Who would have ever thought the journey on this season would end up this way??  And yet your team did not miss a beat and kept all of the quality at the same bar and level as if everyone was in the studio. This alone is such a great testament of the talented team that exists at Lemon Sky. 
I look forward to continued adventures with you and the entire Lemon Sky team." – Dean Hoff – Nickelodeon, Vice President of Animation Production
We're also thankful that Santiago of the Seas has been well received by audiences! 
The series received a five star rating from Common Sense Media, being praised as an exceptional preschool series. 
https://www.commonsensemedia.org/tv-reviews/santiago-of-the-seas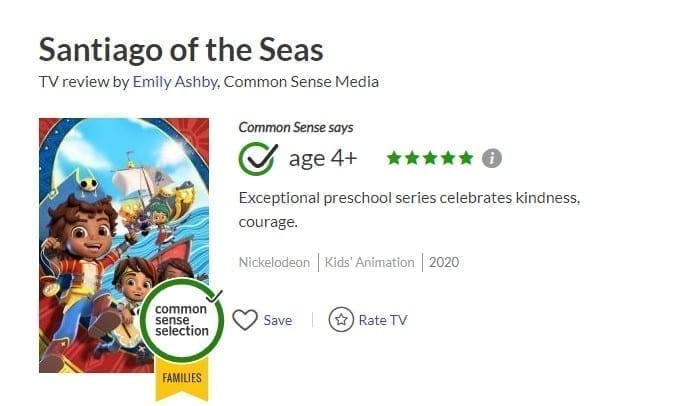 Furthermore, the series debut garnered the biggest L+3 lift Nickelodeon has ever had for a preschool launch, gaining a 96% increase with Kids 2-5, up from 2.6 (L+SD) to 5.1 (L+3). As a testament to the appeal of the culture that inspired the unique and diverse characters of the show, Latinx viewers grew triple digits and accounted for over a third of the overall Kids 2-5 viewership. Additionally, 40% of the premiere's audience were brand-new preschool viewers to Nickelodeon. 
"KUDOS to the whole team that made this show look so great! Thank you for all your passion and hard work that went into Santiago of the Seas. We should celebrate the success of this show together! You did great by far, but we also learned there's space to improve. we won't just stop here – our next challenging project is waiting. 
I can't wait to see what you accomplish next and I'm excited to see our next project come to life!" – Cheng-Fei Wong – Lemon Sky Studios, Chief Executive Officer
Stay tuned to the Lemon Sky website, Instagram and Facebook page for all of our latest news!